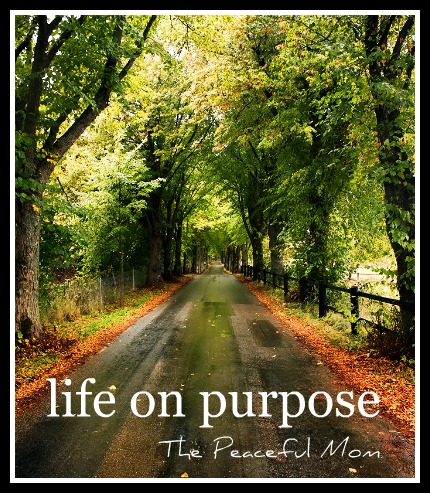 Life On Purpose: Tools to Live Life Intentionally
So far in this series we've covered:
In my last post I shared The Peaceful Mom Goal and Action Planner with you, and today I'd like to share another very helpful planner for goal setting: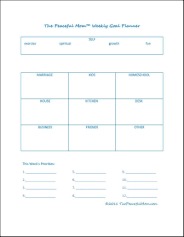 The Peaceful Mom Weekly Goal Planner
The Peaceful Mom Weekly Goal Planner has been available in the Organize section of the website for a while, but I thought I would remind you since we are talking about goal setting. If you've been following The Peaceful Mom for more than a year, you will recognize the format as being the same as the original Daily Organizer.
I have found that it's more helpful to plan my goals for the week on the Weekly Goal Planner. If you will remember, we said that goals are the big picture, but to become a reality in your life they have to be broken into smaller pieces or action steps. I find that those action steps are much more likely to be done when I schedule them on my Daily Planner or Weekly Planner (you can find those here.).
In case you need an idea for how to get started, I thought I would give you a peek into a few of my goals and how they translate into action steps for this week:
SELF
Goal: Feel well physically.
Action Plan: Daily walk, visit the gym Monday and Thursday, drink water throughout the day.
Goal: Do something fun weekly.
Action Plan: Meet with friends this Wednesday.
MARRIAGE
Goal: Show respect to my husband.
Action Plan: Give my husband my full attention when he is speaking to me; enthusiastically respond when he asks me to do something for him; speak kind words.
Goal: Keep the romance in my marriage.
Action Step: Scheduled date night for this week.
CHILDREN:
Goal: Spend extended individual time with each child monthly.
Action Plan: Scheduled date with youngest child; baking time with oldest daughter.
HOUSE:
Goal: Have the house clean and uncluttered for a dinner party this weekend.
Action Plan: Spend ten minutes a day cleaning different areas of the house; delegate cleaning duties to the children in addition to their regular chores.
I hope that you find this helpful. If you have any questions or would like to share your goals for this week, feel free to leave a comment!
Next Post in This Series: Choose Contentment
You May Also Enjoy: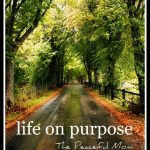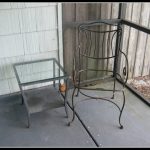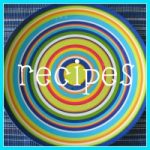 Photo credit: Stefan Gustafsson Photography