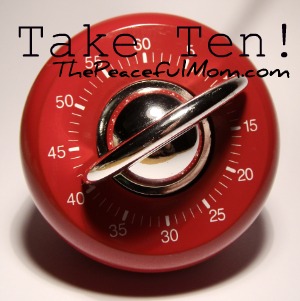 Take TenTM-Improve your life ten minutes at a time!
"The key to success whether you are trying to lose weight, break a bad habit or save money on your grocery bill is to consistently apply small changes over time."

p. 27  Save More, Clip Less
One way I incorporate this principle of small changes over time is to choose a weekly project to work on ten minutes a day. Knowing it's only ten minutes helps me to get started even if the project seems overwhelming at first. Working on the goal daily, helps me to develop discipline (yes, I said the "d" word!) in my life.
This week I'll be spending ten minutes a day getting our house ready for a dinner party we are hosting over the weekend. I will be cleaning, deciding on our menu and preparing as much as possible before hand.
Would you like to join me?
Choose an area you want to improve or a project you have procrastinated on starting. When you decide what your Take TenTM project will be, you can leave a comment on this post to let me know what you're planning–the more the merrier!
You May Also Like: