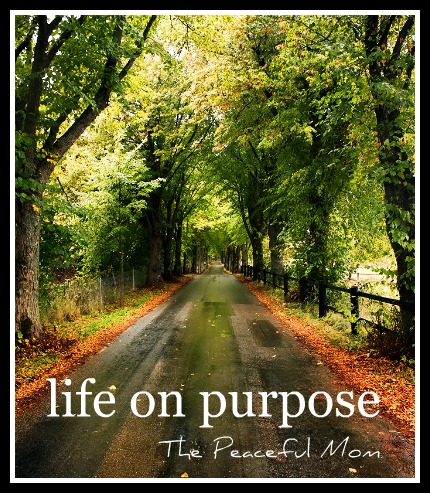 Life On Purpose: Tools to Live Life Intentionally
So far in this series we have covered Finding Your Inspiration, Accepting the Unchangeable and Discovering Your Destination. Hopefully you have found some of the tools such as the Life Inspiration Board and The Peaceful Mom Goal and Action Planner helpful.
Now that you've set some goals, how can you make them a reality in your life?
Let me start with a journal entry from 2004-a time when things were not going so well in my life:
"Acceptance is the key for me right now–
saying to myself that I am exactly
where I am supposed to be.
Don't give up.
Just keep doing the small things."
Even then I knew that small steps would lead me to where I eventually wanted to be. Rather than simply daydreaming about a better future, I had to move toward it.
The better future is your goal. Action steps help you get there.
In order to turn your goals into action you will need to do three things:
Be Specific
Your action plan needs to be specific and measurable, so you know when you have accomplished it. If my goal is to spend more time with my children I need to be specific: How much time? Do I want to have family outings or do I want to spend individual time with each child?
If my goal is to become more creative, I need specific steps to take: signing up for a painting class, blocking out time each day to work on a creative project or starting an idea book.
Whatever the goal, break it down into smaller steps which lead you to your ultimate destination.
Be Committed
In order for your action plan to work, you need to be determined and focused. If you have never really set goals before, choose one area that you are very motivated to change and focus on it. This doesn't mean that the rest of life stops, but it does mean that you are devoting much of your energy toward accomplishing the goal you have chosen. It's difficult to reach your destination if you are constantly changing direction.
Be Structured
In order to achieve your goal, make your action steps part of your daily or weekly routine. I have a goal to keep my house clean and orderly so that my home feels peaceful and welcoming for my family. To accomplish this goal I have several action steps, one of which is doing a load of laundry each day. To make that happen I start a load as a part of my morning routine (You can see a Sample of my Weekly Planner here and you can print your own planner here.).
Setting specific times to work toward your goal means that you make progress rather than having a foggy idea of what you want to accomplish.
In setting your goals, remember that God created you uniquely with innate desires. He made you to be someone and to do something. Don't settle for what the world tells you to be and do. Reach higher.
You only live your life once, so live it well!
Next Post in this Series: Weekly Goal Planner (+ My Goals!)
You May Also Enjoy: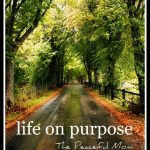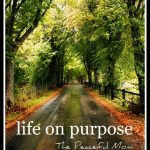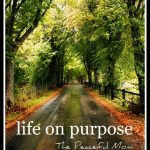 Photo credit: Stefan Gustafsson Photography