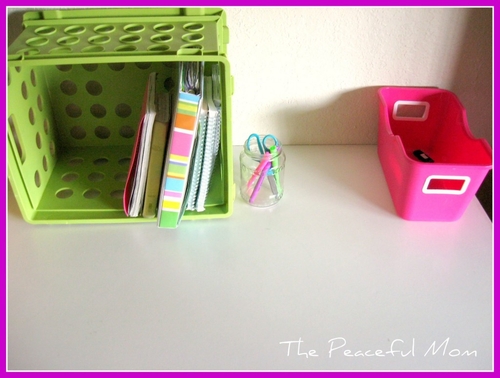 You may have heard the saying,"A clean desk is a sign of insanity."
I have to disagree. A clean desk is a sign of sanity restored.
I have a lot going on in my life and my desk usually shows it–homeschool papers, receipts and other paperwork can quickly clutter my work space. A cluttered desk keeps me from being productive and is a mental and emotional drain.
At least once a week, and preferably every couple of days, I take a few minutes to file paperwork and receipts. I place the graded homeschool work in the appropriate binder for my highschool students and put stray books back on the shelf. I check my planner to see if anything needs to be re-arranged or crossed off the list.
Starting the day with a clean desk helps me to be more productive and peaceful.
Do you have a weekly desk cleaning session? How do you stay organized?  Leave a comment and let us know.