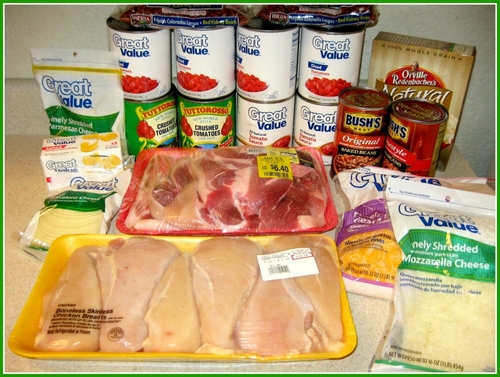 part of my shopping this week
I just returned from my weekly shopping trip (details tomorrow) and I thought I would share a couple of things I did to make meal planning easier for the upcoming week. 
1. Rinse and soak beans: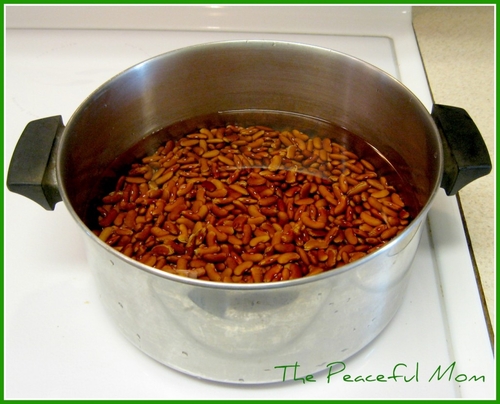 The beans will soak over night (which completely breaks down the fibers so your body can easily digest the proteins) and I will cook them in the morning. Half will go in the refrigerator for Crockpot Chili on Saturday and half will go in the freezer.
You can see my post here for more details on freezing beans.
2. Bake six chicken breasts:
As soon as I arrived home I immediately removed the chicken from the packaging, placed it in a glass baking dish and put it in the oven to bake at 350 degrees for 1 hour. When it's done, I'll allow it to cool and then shred it for Taco Chicken Bowls and Chicken Salad this week.
If I will be using chicken more than two days after I cook it, I put it in the freezer. (Note: I personally do not like to use the frozen cooked chicken in chicken salad, but it's fine for dishes that will be cooked with other ingredients.)
3. Chop and saute onions.
While the onions are cooking, I pull together the ingredients for my crockpot pasta sauce.
4. Prepare Crockpot Pasta Sauce: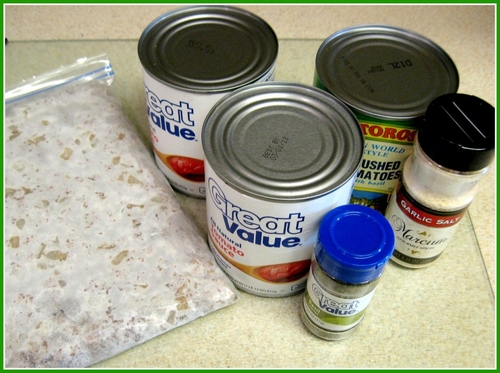 I put the sauteed onions, half the bag (approx. 1 pound) of pre-cooked ground beef from the freezer, (2) 28 oz. cans of tomato sauce, (1) 28 oz. can of crushed tomatoes with basil, 3 tablespoons of garlic salt and a tablespoon of basil in the crockpot. I turned the crockpot on high for one hour. At the end of the hour I stirred the ingredients and then left it on low for the rest of the day. (Note: This sauce is better with sauteed green peppers and black olive, but this is what I had for this batch.)
I will serve the sauce with pasta, garlic bagels and salad tonight and place the leftovers in the refrigerator for pizza bagels on Friday.
Less Than 30 Minutes!
It took less than 30 minutes to do most of the prep work for four meals this week (not counting the cooking time for the chicken because I was doing other things.), plus some of the food will go in the freezer for next week. Dinner preparation for the rest of the week will be a snap.
Now that's what I call easy meal planning!
You May Also Enjoy: