Want to see how I save money? Here's a peek into my Grocery Planning Day this week.
[UPDATE Aug. 2020: I originally wrote this post in 2011 when smart phones weren't as popular and before most of us started to order our groceries online. The basic method still works, but you may want to use notes or templates on your phone rather than printing out the paper lists and templates.]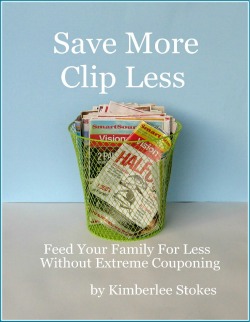 If you read my e-book Save More-Clip Less (click here to read more), you know that the primary way I save on groceries is planning my meals and shopping trips.
Here's what I did today.
*Note: This is a long post, but I thought it might be helpful to see step by step exactly what I do on my Planning Day so those of you who are just starting can have a better idea of what to do.
How to Create a Weekly Meal Plan and Grocery List
PRINT SHOPPING LIST
Print the Multiple Store Shopping List from Save More-Clip Less. (You can print a Black and White Version here!) Write store names on the list.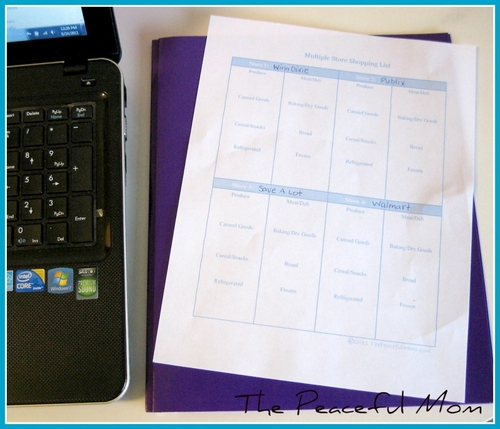 CHECK SALES
I check sales on-line and write the items on the shopping list in the appropriate section:
Winn Dixie
Hormel Natural Choice Lunch Meat 8-12 oz. $1.99 (reg. $3.50 more expensive because it is nitrate-free)
Boneless Skinless Chicken Breasts $2.49/lb (reg. $1.88/lb Walmart-skip)
Pompeian Olive Oil 32 oz. $5.99 plus $1.00/1 coupon
Jumbo White Onions $1.00/lb
Eggs Large 18 ct. $1.99
Angel Soft Bath Tissue, 9 mega, 12 Double or 24 Regular Rolls, $5.50

Publix
Daisy Sour Cream 16 oz. $1.66 (stock up price-not freezable)
Mayfield Ice Cream 48 oz. BOGO $5.99
Whole Fruit Sorbet pint BOGO $2.99
K.C. Masterpiece BBQ Sauce $.99 ($.50 at my store with Coupons.com coupon-no longer available)
McCormick Grinder or Grill Mates Blend .77-3.5 oz. $.98 (love the Montreal Steak on burgers!)

Angel Soft 12 Double Rolls $5.49 (I notice it's slightly cheaper here than Winn Dixie)
Kotex Pads, 22 ct., $3.03
$1 off Kotex Pads 14-56 ct. Publix Coupon- Green Advantage flyer
$1.50/2 Kotex product PRINTABLE

Sparkle Papertowels 6 rolls $5.49
Scotties White Facial Tissues, 60-132 ct., at $1.25
Ester C, 90 ct., $6.99
$6/2 Ester-C Publix Coupon- Green Advantage flyer
$2 off Ester-C product PRINTABLE

I decide not to buy the KC Masterpiece BBQ Sauce (even though it is only $.50!) because we don't like it.
I also add Stonyfield Organic Yogurt to the Publix section of the Shopping List because we eat that for breakfast each week and Publix has the cheapest price in our area.
PRINT COUPONS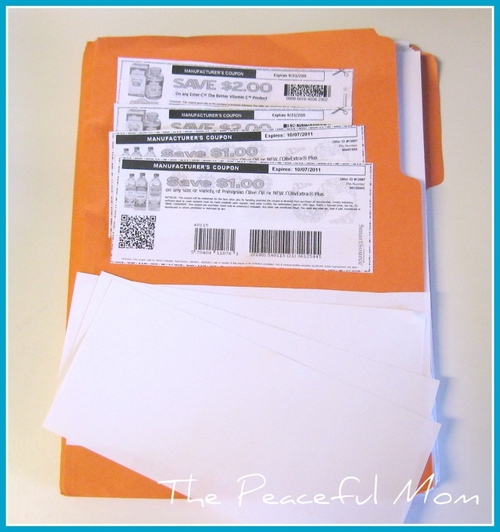 I only use printable coupons or store coupons. I printed the coupons for Ester C and the Pompeian Olive Oil. When I cut them out I put the extra paper in the drawer for note paper.
I decided against the Kotex coupon because it required me to "send a dare" to a friend. I don't really like bugging my friends unless it is for something worthwhile, so I skipped this coupon.
INVENTORY FREEZER, FRIDGE AND PANTRY
Because the sales are not yielding a lot of deals for me this week, I will rely on items I previously purchased for this week's meals.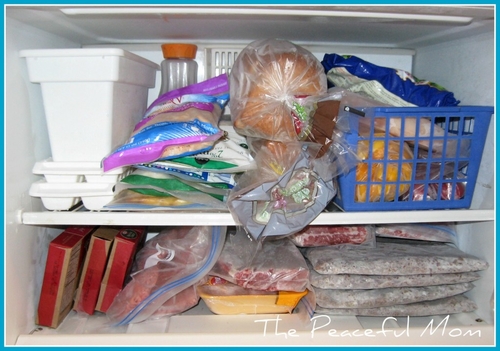 I check the freezer and find that I have hamburger patties, London Broil, chicken breasts, frozen fruit, frozen broccoli, frozen green beans, bread, a package of sausage links, mozzarella cheese and one package of shredded cheddar.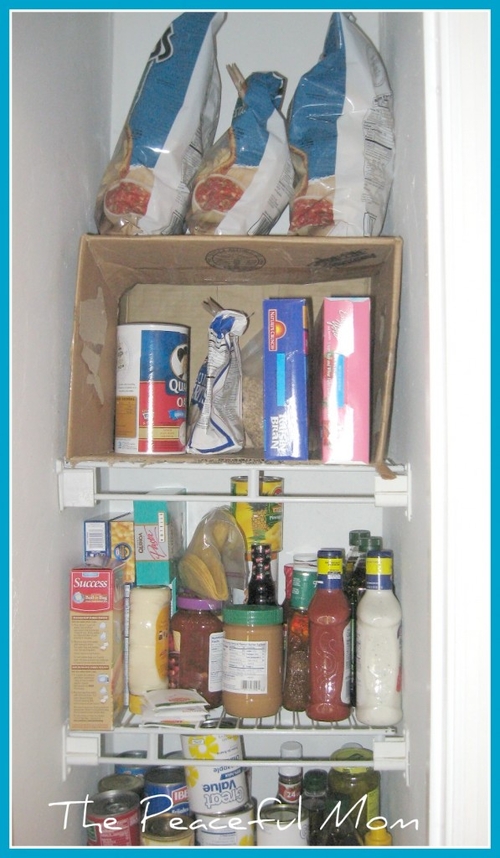 As I check the pantry (notice the "budget" shelving we're using right now). I've got lots of tortilla chips from a previous sale so that's definitely going to be worked into the meal plan.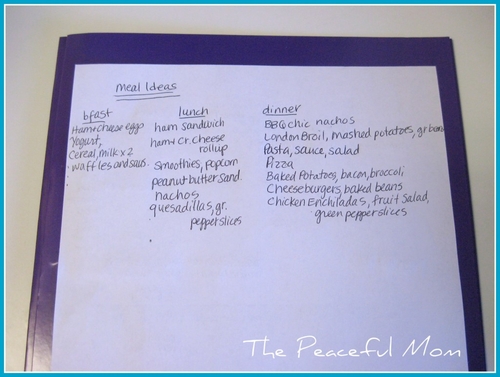 WRITE A LIST OF POTENTIAL MEALS
I start writing down meal ideas on the back of the Grocery List.
-Tortilla chips and BBQ sauce will become BBQ Chicken Nachos.
-Half of a 5 lb. bag of potatoes will become Mashed Potatoes with London Broil and Steamed Green Beans from the freezer. The other half of the bag will used for Baked Potatoes with Bacon and Broccoli. I have broccoli in the freezer, but I need to add bacon to the Walmart section (cheapest non-sale price).
-I'll use the boxed pasta in Pasta with Sauce and Garden Salad. I notice that I have no sauce so I write that in the Walmart section because I know I can buy our favorite brand at the lowest price there. I also write romaine lettuce and tomatoes in the Save A Lot section.
-I see baked beans in the pantry so I will serve Cheeseburgers with Baked Beans.
We also have black beans, but we are on the edge of food fatigue with these so I will skip them this week.
One of my children requested Pizza and I do have 3 packages of shredded mozzarella in the freezer, so I add pizza crust, pepperoni and another jar of spaghetti sauce to the Walmart section of the shopping list along with a Gluten Free Pizza for my daughter. (Yes, I know it's cheaper to make the crust, but I have a busy week and won't be able to make it from scratch. Normally I use this recipe.)
For my final dinner meal I am going to use another package of chicken from the freezer to make Chicken Enchiladas. I will serve these with Tropical Fruit Salad using the canned pineapple, canned mandarin oranges and coconut from the pantry. I add tortillas to the Save A Lot section of the shopping list.
PRINT THE MENU PLANNER
I now fill in The Peaceful Mom Customizable Menu Planner (Click here). As I fill in the menu planner, I make sure to add any ingredients we need on the shopping list.
CHECK THE RUNNING GROCERY LIST
I finish up by checking the list of items we're running low on and adding them to the shopping list. I have the Grocery List in a page protector on the fridge so we can check off items with a dry erase marker as we use them. (Click here to print your own grocery list.) We need butter, cheddar cheese, cereal, honey, chili powder and cumin. The cereal and butter go in the Save A Lot section and the other items under Walmart.
I also notice that my daughter needs more gluten free bread so I add that to the Publix list.
Here's the completed shopping list: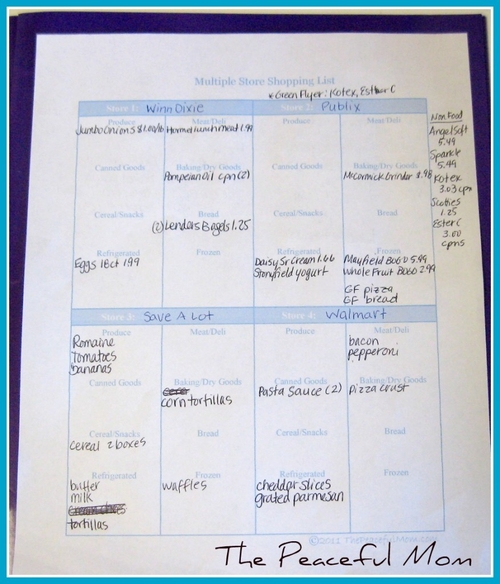 Now I'm ready to shop tomorrow!
It looks like I won't be buying that much, so I may have some room in the budget for any unadvertised deals I find or I may use the extra money to stock up on the Hormel lunch meat which I will put in the freezer and use over the coming weeks.
Hopefully you will find this helpful. If you have questions, please feel free to leave a comment on this post or on Facebook.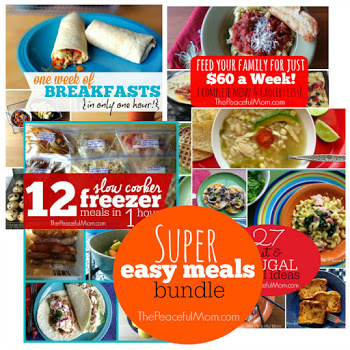 If you're completely overwhelmed by the thought of meal planning, purchase a Pre-Made Meal Plan.
I have several frugal and easy meal plans available to get you started.
Click HERE to see all The Peaceful Mom Menu Plans.
Cheering You On!

Want a simpler life?
Join our simplifying, organizing, life-changing community!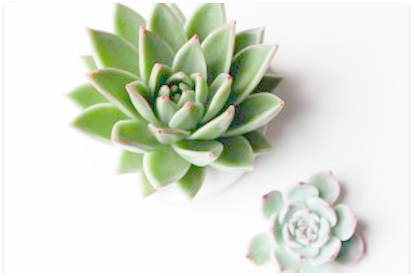 Click here to join The Peaceful Mom Community!
Get weekly encouragement & 10 Minute Organizing Tips
PLUS access to our Organizing and Printable Library including:
10 Minutes a Day Declutter Calendar — focus on one small area each day of the month
Organizing Printables – to organize your life one baby step at a time
Monthly Gifts – because who doesn't love a surprise?