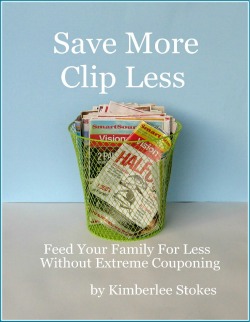 I talked to a friend yesterday who recently read my new e-book and had just completed her first multiple store shopping trip. She said that she spent less and got more for her money, but the shopping took a long time. I thought that maybe some of you were having the same experience.
I hope that in reading Save More-Clip Less the message came across clearly that you should make shopping and saving money work for you. If you would like to try shopping multiple stores but don't have a large chunk of time, split your shopping up over two days. I actually split my shopping into two days last week. I spent longer than I anticipated at Walmart and ran out of time, so I visited Save A Lot the next morning.
Our conversation also reminded me that there is an adjustment period with any change we implement in our lives. Be patient as you learn what works best for you.
If you have questions, please feel free to leave a comment on the blog or on Facebook. Readers have left many good ideas on Facebook in the last couple of days and I'm looking forward to even more!
If you haven't had a chance to download the book, click here. Simply click the "Like" button at the top of the page, click the link in the page that opens up the download page and click again to download. Make sure to save it to your computer before reading. 🙂
Note: Please do not share the e-book directly with anyone, but direct them to my blog or my Facebook Page. Thanks so much!