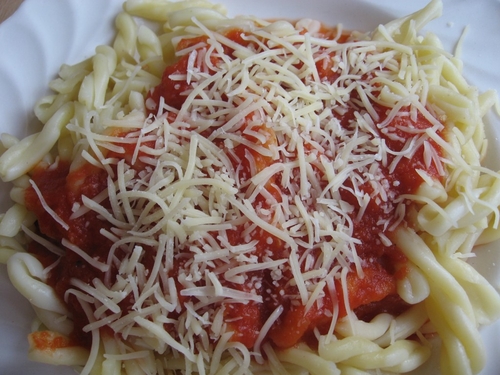 "We're having spaghetti again?"
One common pitfall when trying to save money on groceries is serving the same cheaper meals all the time. Serving the same dishes repeatedly creates what I call it "food fatigue" and when it hits, food items have to be removed from the menu for a while. During one season I served oatmeal so many times that I had to wait six months before anyone would eat it again!
After that episode, I learned a few tricks to spice things up:
Make it Pretty– Just because a meal is cheap, doesn't mean it has to look that way. Use garnishes and special serving dishes to make things interesting.  We serve smoothies in wine glasses, serve sandwiches on special trays, turn lunch meat and veggies into mini shish kebabs on pretzel sticks and serve fresh grated parmesan with pasta.
Mix It Up- While serving the same foods on the same day every week makes menu planning easier, it's important to not over-use this technique. I realized that I had fallen into this trap when my 9 year old asked,"Do we have to have bagels every Sunday?" Time to re-do the menu! You can also serve foods in different ways. (See my 5 Ways to Prepare Potatoes post here.)
Add Extras-When I first began to cut the grocery bill I made our meals too simple (just pancakes or just beans and rice).  Now I try to add special touches such as strawberry slices and whipped cream with our pancakes; sour cream, cheese and tortilla chips with our black beans; bacon and broccoli with cheese sauce with our baked potatoes.  It costs extra, but enables me to serve cheaper meals overall without the family getting burned out.
Try New Recipes-A great way to avoid a rut is to introduce new recipes into your menu plans. You can find lots of great recipes on-line. I have a list of some I use and want to try here.
Strategically Plan- On nights we have a special event to attend I sometimes plan a  "boring" cheaper meal because we have something to look forward to afterward. You can also plan a special budget friendly dessert to erase the "pain" of having spaghetti again.
Create Ambiance-Use pretty tablecloths, candle light or interesting centerpieces to make your table inviting. (I often use Pinterest to get ideas.)
Create Conversation-Enjoying your family around the table makes the food a little less noticeable. Use conversation starters (What is one place you want to visit? If you could take only three items other than clothes on a six month trip, what would you take? What famous person do you want to meet and why?) to make table talk more interesting.
Hopefully I have learned my lesson, but at least you can benefit from my mistakes! What other ideas do you have for making cheaper meals more interesting? Leave a comment and let us know.