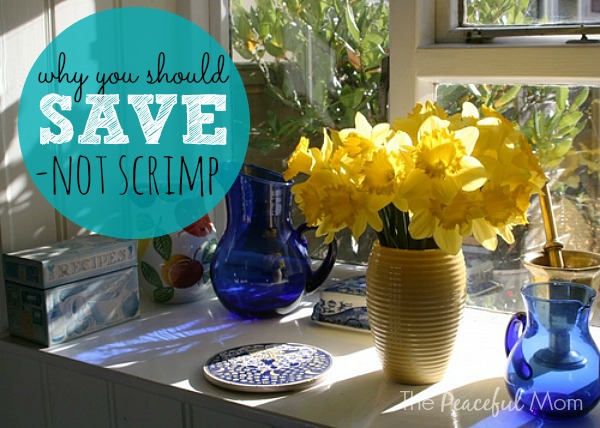 scrimp [skrimp]  v. 1. to be sparing or restrictive; to limit severely.
I once heard a speaker at a women's conference say that even though she had a really tight grocery budget, she always made room for fresh flowers. At the time I thought she was crazy. Why would anyone spend money on flowers (a luxury) when she had so little money for food (a necessity)? I now see her wisdom.
Beauty is a necessity.
We innately respond to beauty around us because God created us for beauty. Look at the amazing creation around us – the unique variety of ocean life, the vast array of plant life, the uniqueness of each sunset each reveal God's love for beauty.
There are times when the goal of saving money impoverishes us rather than enriching us and the lives of those around us. We choose austerity in the name of thrift and we scrimp rather than using money as a tool to live our values and make the world a better place.
It's not just a matter of how much money we spend or save. The key to a purposeful and joyful life is choosing to spend with a higher goal in mind.
How can you make life-enriching choices today with your money?
You May Also Enjoy: