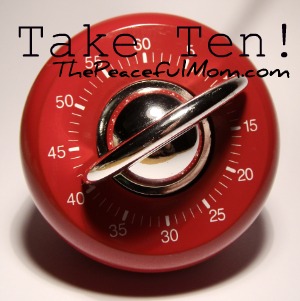 Take TenTM-Improve your life ten minutes at a time!
"The key to success whether you are trying to lose weight, break a bad habit or save money on your grocery bill is to consistently apply small changes over time."

p. 27  Save More, Clip Less
One of the ways I incorporate this principle into my life is by choosing a weekly project to work on ten minutes a day. Knowing that it's only ten minutes helps me to avoid procrastination because a project seems overwhelming. Working on the goal daily, helps me to develop discipline (I know–it's an ugly word!) in my life.
This week I'll be spending ten minutes a day doing something special for one of my children who felt particularly neglected during my book writing marathon last week (her love language is quality time!). We will probably spend more than ten minutes once we get started, but by committing to ten minutes I know we will get some one-on-one time together.
Would you like to join me?
Pray about an area you want or need to change. If you just read Save More-Clip Less, you may want to spend ten minutes a day this week making a menu for next week or implementing a new cooking strategy. When you decide what your Take TenTM project will be, leave a comment on this post to let us know what you're planning.
You May Also Like:
Change Your Life in Ten Minutes