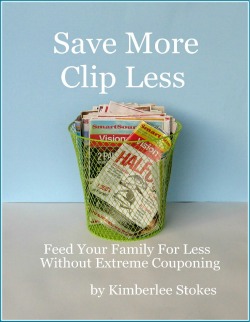 I am overwhelmed by the response to Save More, Clip Less!
Thank you so much to all of you liked The Peaceful Mom and downloaded the book. Thank you especially to those of you who have left kind and encouraging words for me.
It was my deepest hope that someone would find Save More, Clip Less helpful and it looks like many of you have!
If you haven't downloaded it yet, there is still time. You can click here to go to the Welcome Page on Facebook. You will click the first link at the bottom of the page to go to the download page and then click another link to start downloading the book.
NOTE: I am happy for you to share this e-book with others who will find it helpful. Even though I am offering it for free, I put a lot of work into it. I would really appreciate your sharing the link to my blog rather than the actual e-book (you can click the Facebook, Twitter or Stumble buttons below this post). Thank you so much!
Please be patient as the website has been a little overloaded at times with all of the traffic.
Thank you!