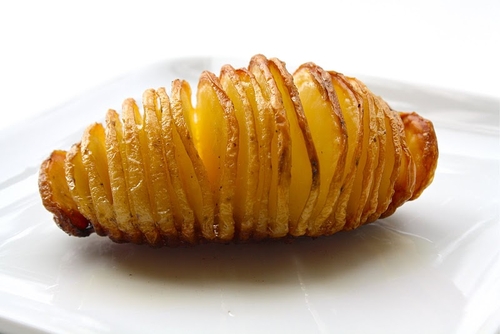 I recently found 10 pound bags of potatoes for $.99 and bought five bags. So what am I doing with 50 pounds of potatoes? 
Potatoes are a nutritious, real food and they're a big help in keeping my grocery budget under $100 a week. Potatoes will keep in a cool, dry place for a very long time.
You may traditionally think of serving potatoes during the winter, but they can be enjoyed year round.  We have baked potatoes about once every two weeks during the summer with a nice tossed salad.  It makes a filling and yet light meal during the summer heat.
Try these ideas for potatoes: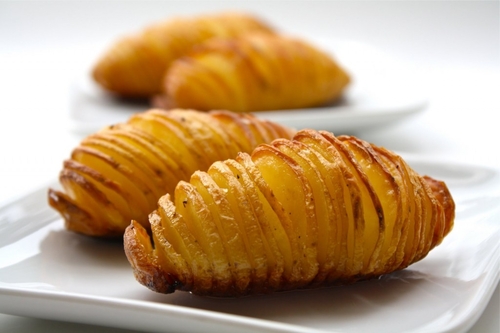 Hasselback Potatoes: I recently found this idea on Pinterest. Slice the potatoes almost through, insert garlic cloves in between the slices, drizzle olive oil and sprinkle salt on them before baking. You can read the full directions here.
Homemade Chips: Slice thinly, fry in heavy duty skillet with about 1/2 inch of olive oil, sprinkle with salt.  Remove from skillet when they are crispy brown and allow to drain on a couple of layers of paper towels.  Serve immediately.
Oven Fried: Slice, coat in olive oil or butter, sprinkle with dried rosemary and salt.  Bake at 350 degrees for 30-40 minutes or until done.  You want these to be cooked through and slightly crispy on the edges.  You can also top with parmesan for a delightful change.
Garlic Mashed Potatoes: Boil the potatoes, drain the water and mash.  Add sea salt, butter, garlic salt. Top with cheese and parsley if desired.
Baked: Wash, pierce several times with a fork, dip in olive oil, roll in Kosher salt.  Bake at 425 degrees for one hour. (You can watch my Best Baked Potatoes video here.)
Note: Do not cover them in foil! This will steam the potato rather than baking it and will make the skin soggy.
Once baked, try these toppings:
Traditional– butter, sour cream, bacon bits (I use real crumbled bacon)
Mexican– taco meat, cheese, sour cream, salsa
Veggie– broccoli and cheese
Breakfast– Scrambled eggs and cheese
Any way you look at it, potatoes are a versatile and budget-friendly food!