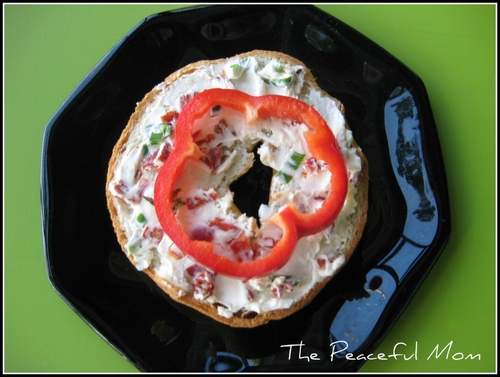 Need a new lunch idea? Try this easy cream cheese sundried tomato spread on a gluten free bagel. 
Sundried Tomato Cream Cheese Spread
Ingredients:
8 oz. cream cheese softened
2 tablespoons sundried tomatoes, finely chopped
1 tablespoon green onion stems, diced
2 tablespoons red bell pepper, diced
Pinch salt
Additional red pepper for garnish (optional)
Directions:
In a medium bowl, stir the cream cheese until smooth.  Add sun-dried tomatoes, onions, peppers and salt.  Stir to combine. Refrigerate to allow flavors to infuse throughout.  Makes approximately one cup of spread.
Serve on toasted gluten free bagels or gluten free crackers.
Find more Gluten Free recipes at The Gluten-Free Homemaker.
I'm linking up at Smockity Frocks!