"All good things must come to an end." This adage rings especially true for me right now.  
I have heard it said that sometimes the "good" is the enemy of the "best" and I definitely want the best for my family. One good thing in my life has been my second website Simple Gluten Free.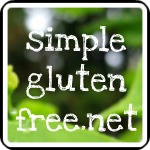 My intent was to move everything from The Peaceful Mom to a separate website to make things simpler, but things haven't worked out that way.  The good has definitely become the enemy of the best in my life as I try to keep up with the demands of homeschooling four children and running our household.  I am simply unable to maintain two blogs.
Soooo, Simple Gluten Free will be transitioning back to The Peaceful Mom.  After all, if I'm going to write about being peaceful I had better be peaceful myself!
I appreciate your patience as there may seem to be a flood of gluten free posts as I move everything over.  Balance will return!
If you are interested in reading past Simple Gluten Free posts on The Peaceful Mom, you can find them under the FOOD tab.  Just click the "gluten free" button and read away!