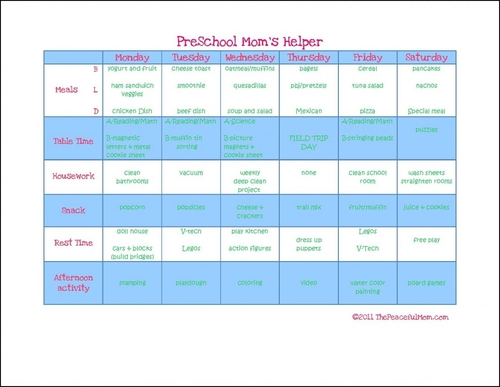 Click to print the PreSchool Moms Helper 1 (click for the Blank PreSchool Moms Helper).
My children are older now, but when I had four young ones aged five and under I needed lots of help!  
Schedules never worked for me, but having a chart of our basic routines did. I could see at a glance what our next activity was and I didn't have to make any unnecessary decisions during the day. Having everything written down also helped us stay in a predictable routine ( a must for young children!). Here's a peek into what our days looked like [minus some of the gory details :)]:
Bible Reading and Memory Verse-I took full advantage of meals when everyone was seated. At breakfast we did a little reading from a children's Bible and worked on our weekly memory verse. Young children are like little sponges, so memory verses work well. I drew pictures on index cards to help them visualize the verse.
Chore Time-After breakfast everyone "helped" with chores. Even young children can carry plastic dishes into the kitchen, throw away trash and help put food away. We then moved to one specific area to clean it together.  It may not have been perfect, but the children learned that everyone helps to keep the house clean.
Table Time-At this point in the morning I seated everyone at the table again and we did various pre-school activities. (See the Pre School Moms Helper 1 for details.)
Free Play-Kids ran around or played with toys while I prepared lunch.
Lunch Time– I again took advantage of everyone being contained and took the time to read a book to them. It only took a few minutes but helped them learn to listen during meal times, not just talk.
Chore Time #2- Everyone helped to fold and put away laundry and then to pick up toys.
Rest Time-During rest time the non-napping children had different toys to play with each day. The rest time toys were placed in bins on the top shelf of the closet and were taken out only on the scheduled day. Rotating the toys ensured that they didn't get bored and gave me a little extra time to  myself. The specific toys for each day were listed on the chart so I didn't have to remember. (Of course there were plenty of other toys to play with during free time.)
Snack-After rest  time, we all had a snack together. Again, having the snacks on the Mom's Helper kept me from having to make the decision of what to prepare.
Afternoon Activity– While I prepared dinner everyone worked at the table on the afternoon activity: play dough was a favorite. This activity gave me the opportunity to work in the kitchen while keeping the kids within sight at all times.
Outside Time- After dinner we tried to spend a little time out doors, then time for baths and bedtime readalouds.
Wow, just remembering how busy it was makes me feel tired again!
If you're a mom of young children, you can print out the Pre School Moms Helper (Blank) and try it for yourself. Try adding a little structure each week rather than trying to change everything at once.
If you place your planner on the fridge, you can refer to it throughout the day so you know what's next. Once you get the hang of new routines, your day will go much more smoothly and that can only be a good thing!
You can print a black and white version here.
You May Also Enjoy:
How I Survived Four Kids Ages 5 and Under
FREE Printable Daily Kid Planner