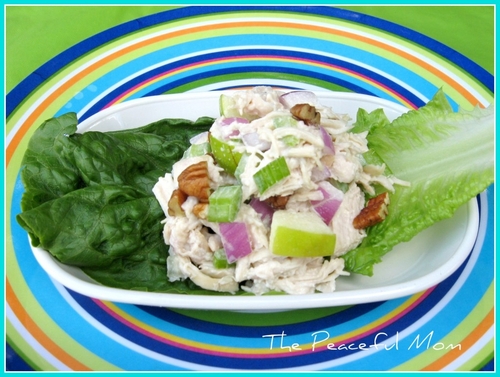 Try this fresh chicken salad recipe for a cool summer dinner.
INGREDIENTS
Crunchy Chicken Salad (Gluten Free)
A fresh and tasty recipe from The Peaceful Mom!
Ingredients
2 baked chicken breasts shredded
1/4 medium red onion, diced
2 stalks celery diced
1/2 medium Granny Smith apple, chopped
1/8 cup pecans, chopped coarsely (optional)
1/4-1/2 cup non-sweet mayonnaise (we like Duke's)
Salt or garlic salt to taste.
Instructions
In a large glass bowl, combine first four ingredients.
Add pecans and stir to combine.
Add desired amount of mayonnaise (we add less to make salad drier) and stir until well incorporated.
Add seasoning.
Refrigerate for 2-4 hours to let flavors combine.
Serve with gluten free corn tortilla strips (We like Mission brand).
https://thepeacefulmom.com/2011/08/06/crunchy-chicken-salad-gluten-free/
I'm linking up to Tasty Tuesday and Gluten Free Wednesday!