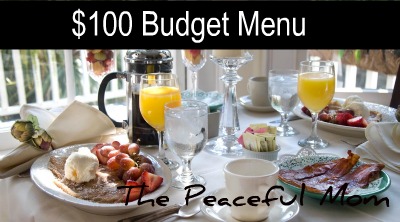 Here's our $100 Budget Weekly Menu (for six people including three teens and a ten year old who eats like one!).  It's a short week for us because we just returned from a six day trip.  This menu is for Monday through Thursday.
Print your own menu planner form here.
*Previously purchased and in the pantry, fridge or freezer.
BREAKFAST
Organic yogurt, fresh blueberries
Cereal with milk
Egg and Cheese Bagel*
LUNCH
PBJ, canned fruit*
Nachos*
Peach Mango Smoothie*, popcorn*
Turkey Sandwich*, pickles*
DINNER
London Broil*, saffron rice, steamed green beans*
Stir Fry Vegetables, Tomato Cucumber Salad
Nitrate Free Hot dogs, baked beans
Spicy Black Beans*, rice
You May Also Enjoy: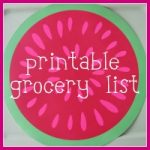 FREE Printable Grocery List Form