Keeping a house full of kids organized can be a difficult task. One of the ways I make it easier is to assign each child a color.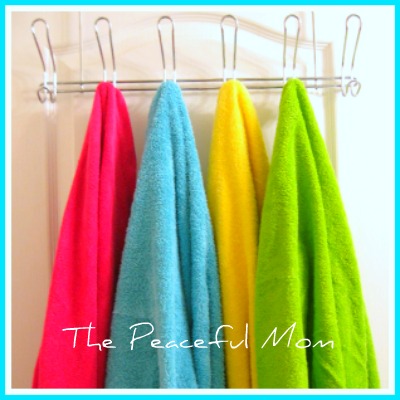 In the bathroom: Each child has his/her own color towel. I can see in an instant whose towel was left on the floor, or I can search for a wet towel because I see it missing from the rack.
Assigning a color also cuts down on laundry. Each child uses his own towel for the week and all towels are washed on Saturday-no piles of once used towels lying around.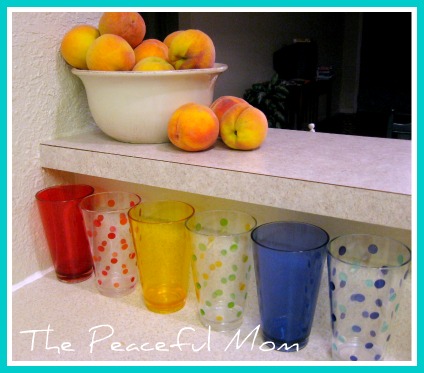 In the kitchen: Each family member has his/her own color drinking glass. No more washing endless numbers of cups or glasses. Each child drinks from his assigned color glass which is washed at the end of the day.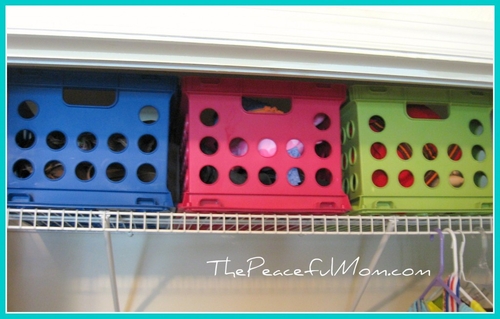 In the bedroom: Because my three girls have to share a room, space is at a premium.  We keep things organized by assigning a specific color bin to each child.  Items must be put back in the bin and not left on the floor.
Other ways to use color: When the children were younger, they each had their own color laundry basket.  Clean clothes were put into the specific basket for the child and I could see in an instant who had not put away their laundry.  Now that the children are older, most of them do their own laundry. 🙂
Each child also has his own crate for home school books and materials.  They can take the crate anywhere they want to work and everything is accessible.
Using color is a great way to keep your family organized, but it doesn't have to cost a lot.  Here are some ways to coordinate colors while staying within your budget:
Shop Thrift Stores and Yard Sales-Shopping thrift stores or yard sales first can save lots of money.  You can often find expensive accessories at really cheap prices.
Shop Dollar Stores-Dollar stores often have sets of colorful organizing accessories and at a dollar a piece, you can afford to stock up.
Shop Back To School Sales-Discount stores offer sale prices on organizational accessories for students going off to college, but you can take advantage of the sales too.  I bought the colored bins for the girls' closet in Walmart's back-to-school section.
Buy the Most Important Items First-For our family towels were a real problem.  I hated washing a load of towels every couple of days, so I made purchasing each child a new colored towel a higher priority.  As I had more money, we purchased other items.
What other ways have you used color to make life easier?
You May Also Enjoy: