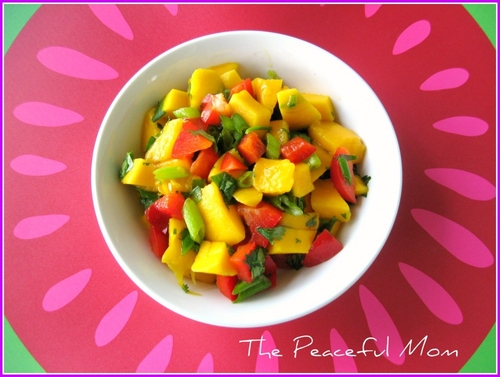 Mangoes are in season and super cheap right now, so we're trying some new recipes at our house.  This salsa went perfectly with our grilled chicken!
A fresh and tasty recipe from The Peaceful Mom.
Ingredients
Flesh from 2 medium-sized mangoes (ripe, but firm), large dice
1 medium size red pepper, diced
1/4 cup fresh cilantro, diced
2/3 cup green onions, diced
2 tablespoons freshly squeezed lime juice
1 tablespoon olive oil
Salt to taste (I used a pinch.)
Instructions
Combine first four ingredients in a glass bowl.
Add lime juice and oil.
Stir to coat all ingredients well.
Refrigerate for 1-4 hours to allow flavors to infuse throughout.
https://thepeacefulmom.com/2011/07/22/mango-salsa-recipe/
We serve this over grilled chicken-delish!
I am linking up at Tasty Tuesday and Gluten Free Wednesdays!
You May Also Enjoy: