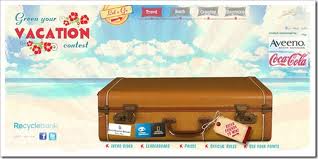 Have you signed up for Recyclebank yet?
Don't miss their  "Green Your Vacation" contest where you can earn Recyclebank points (redeemable for coupons and other rewards) by learning ways to "green your summer vacation"!
Go to Recyclebank, click on the "Staycation" tab at the top and click around on the moving objects.  Answer the questions to get your points.
You can also click on the Travel, Beach and Camping tabs if you haven't done so.
*note: this post contains my referral link