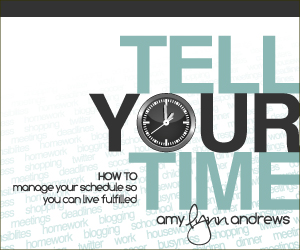 Amy Andrews (previous personal assistant to Crystal Paine of Money Saving Mom) is offering her ebook, Tell Your Time, for just $2.00!
Through August 1, 2011 (when Amy will be releasing an updated copy), you can get this very helpful e-book for 85% off!
Tell Your Time is an organizational book which shows you step by step how to prioritize and organize your day.  Organizing Amy's way ensures that you are accomplishing your goals in the areas that matter most.  Her creative approach enables you to step back and really think about why you have those activities on your to do list.
Here's the review I wrote for her when she first released Tell Your Time:
"Many organizational tools tell you how to fine tune the details of your day-to-day routine.  Tell Your Time is unique because it helps you see the "big picture" of why you are doing daily activities in the first place.  If you are a busy mom like me, I highly recommend that you get this e-book!"
And you can get this e-book for just $2.00!
Just click HERE to get this terrific bargain.
Note: The link in this post is my referral link.