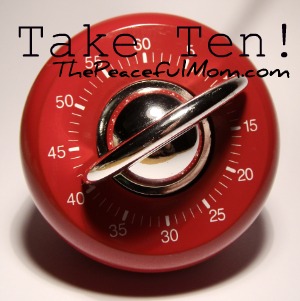 Take Ten-Improve your life ten minutes at a time!
If you read my post earlier in the week, you know that I committed to working on a writing project ten minutes a day.  Here's the report on how it went. 
Monday– I started the day well, but got sidetracked while working on the blog and spent way too much time on the computer.  After taking care of household duties, I just felt too tired to think about writing.
Tuesday-I again had a great start to the day, but an unexpected visit from a friend blew the schedule.  I didn't even work ten minutes on the writing project.
Wednesday-I had a long list of things to do and I got them all done, but no writing project.
Thursday-At this point, I'm just embarrassed.  I stayed up too late Wednesday night and didn't want to get up in the morning.  I had a morning appointment that ran late and then a friend invited us for a spontaneous swim session.  We came home, had dinner and I went to bed early.  Again, no taking ten today.
Friday-After failing to work on the project all week, I was determined to make it happen.  I got up early and wrote for over an hour.
Saturday-I got up early this morning and worked on writing again.
Even though I didn't work ten minutes a day as planned, I did at least get my hour in.  As you can see, I still need to work on this skill of daily diligence.
This week I will be continuing with the writing project and hopefully it will go much better!
Did you work on anything this week for ten minutes a day?  Leave a comment and let me know how it went.
You May Also Enjoy:
Change Your Life In Ten Minutes
Get Organized: FREE Printable Daily Planner