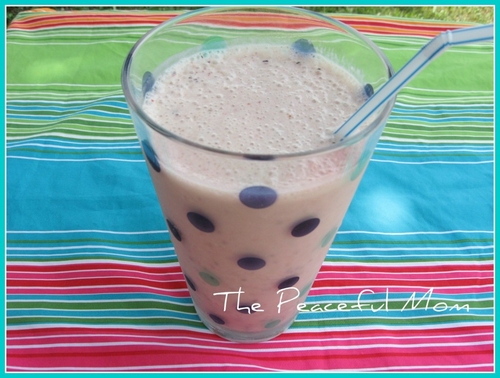 Need a new breakfast idea?  Try this Banana Berry Smoothie-yumalicious!  
INGREDIENTS
3 frozen bananas (in small chunks)
1/2 cup milk (optional*)
1 cup vanilla yogurt *
1/2 cup frozen blueberries
1 cup frozen strawberries
DIRECTIONS:
Combine bananas, milk and yogurt in a blender and blend on high until smooth.  Add berries and continue to blend until they are incorporated.  If using fresh berries, add a few icecubes to make it frosty.
The bananas provide natural sweetening, so we don't add any other sweeteners.
Serve immediately.  Makes approximately (2) 8 oz. servings or (4) 4 oz. servings.
Note:   If you are unfamiliar with blending smoothies, make sure that you add liquid as necessary to maintain a vortex (the spinning hole in the center) while blending.  This prevents motor burn out in your blender.
*You can use coconut milk or yogurt to make this dairy-free.  You can also completely skip the dairy products and just add water or juice to thin it.
You May Also Enjoy:
I'm Linking up at Gluten Free Wednesdays!