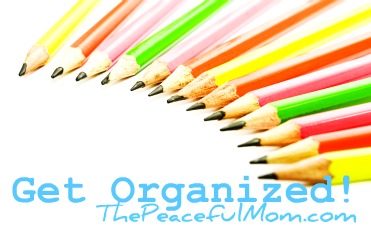 Get Organized: A New Weekly Planner Option.
Click to print The Peaceful Mom Weekly Planner 3
An important part of having a peaceful home is having an organized home.  If you read my post here, you know that I have recommitted to my planning day on Sunday to bring more organization to my week.  I spend about 30 minutes looking at our upcoming week and scheduling the activities and responsibilities that will need to be taken care of.
I first tried the Weekly Planner 1, which is very general.  I then moved to the Weekly Planner 2, but decided that the hour by hour schedule was a little overwhelming for me, so I created the Weekly Planner 3 with general time frames instead.
Different planners will work for different people, so I'm leaving all three options on the website.
Here is a look into my week using the new planner:
The top section includes my Daily Focus (my primary goal for the day), my Morning Routine (Bible reading, a reminder to drink water, exercise, start a load of laundry and start dinner preparation), and my To Do List (chores, errands and calls and a to list for my blogging).
The next section gives me a rough outline for my day.  Scheduling by the hour was frustrating for me because projects often took longer than expected.  Now I have a general plan for what I need to do during the morning, afternoon and evening hours.
The third section consists of a place to write notes to myself about things that need to be taken care of.
You can download The Peaceful Mom Weekly Planner 3 and try it yourself.
You May Also Enjoy:
FREE Printable Grocery List and Menu Planners