Simple Gluten Free: A simple way to make individual gluten free lasagna.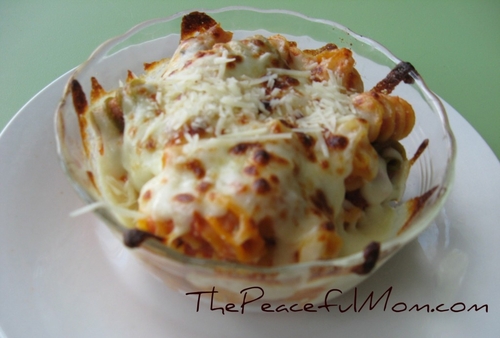 While we enjoy Amy's Gluten Free Lasagna, sometimes we need a more budget friendly version.
Gluten Free Lasagna Bake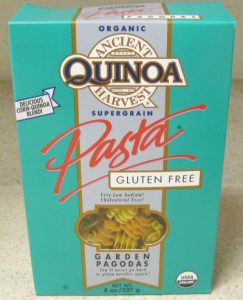 INGREDIENTS:
3/4 cup uncooked Gluten Free rotelle pasta (we like Ancient Harvest Quinoa Rotelle)
2 Tablespoons ricotta cheese
3-4 Tablespoons spaghetti sauce
2 Tablespoons browned ground beef or italian sausage (optional)
1/4 cup shredded mozzarella cheese
1-2 Tablespoons fresh grated parmesan (optional)
DIRECTIONS:
Cook pasta according to package directions.  Drain and rinse.
In a small oven-proof bowl or ramkin combine 1 cup of cooked pasta, ricotta, sauce and ground beef or sausage.
Top with mozzarella.
Place the bowl on a cookie sheet and put under the broiler for 1-2 minutes or until cheese is melted and brown (Watch carefully as browning occurs quickly!).
Remove bowl from oven and garnish with grated parmesan.  Serve immediately.
Serves 1.
©2011 The Peaceful Mom-Please feel free to share this recipe as long as you give credit and a link back to ThePeacefulMom.com.  Thank you!
All recipes and suggestions are given with the understanding that the author is neither a nutritionist, nor has any medical training.  The author is simply sharing recipes that she has used and takes no responsibility for results that may occur in your situation.  You should seek the advice of a certified nutritionist and or your medical professional.
You May Also Enjoy:
Simple Gluten Free: Simple Snacks

Simple Gluten Free Weekly Menu
I'm linking up at Tasty Tuesdays and Gluten Free Wednesdays!