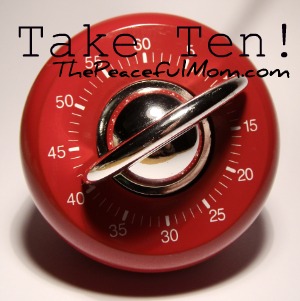 Take Ten-Improve your life ten minutes at a time!
This week I'll be spending ten minutes a day to work on details for my daughter's upcoming 13th birthday celebration.  I start a journal for each of my children during pregnancy and continue to write prayers and thoughts in it throughout their lives.
For their 13th birthday we hold a blessing ceremony during which loved ones pray for them, speak encouraging words and then I present the book to them to read.
If you're participating in the Take Ten Challenge by taking ten minutes a day to work on a project, let me know how it goes!
You May Also Like:
Take Ten: Computer Maintenance
The Peaceful Mom Weekly Planner