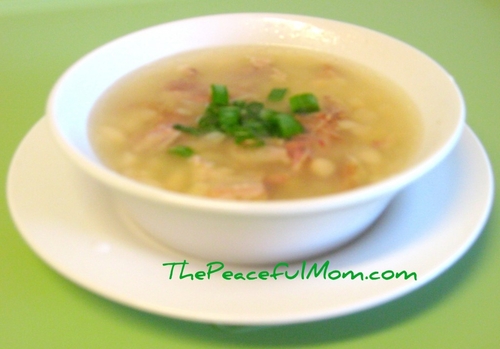 If you read our menu for this week you know that I planned to try a food experiment: Baked Beans From Scratch.
Well, the day after I made the menu I found a leftover ham bone in the freezer, so the navy beans became ham and bean soup rather than baked beans.  Here's the recipe for the soup and I'll try the baked beans another time.
INGREDIENTS
1 lb bag dry navy or other white beans
leftover ham (a ham bone is especially good)
3 cups chicken broth
1/4 cup chopped onion
1/2 cup chopped celery
salt to taste
green onion for garnish (optional)
DIRECTIONS
To Cook Beans:
Rinse and soak beans overnight in a large stainless steel pot.  Drain and rinse beans the following morning. Return beans to pot, add ham bone (or ham pieces) and add water to one inch above beans and ham.  Add salt to taste (ham tends to be salty so I added only a tablespoon of salt to the whole pot).
Bring water to a boil, then lower to a simmer and cook for 1-2 hours or until beans are tender.
To Make Soup:
Remove ham bone and cut ham pieces from it. Add ham pieces back to the pot with chicken broth, chopped onion and celery. Bring to a boil and lower to a simmer to cook for 30 to 45 minutes more.
Garnish with chopped green onion and serve with cornbread.
You May Also Enjoy:
Using Leftovers: Easy Rice Pudding
Save Money: Five Things You Can Do Today
I'm linking up at Tasty Tuesday and Gluten Free Wednesday