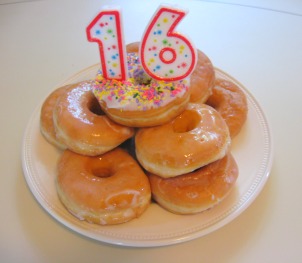 My son turned 16 last month and I'm presented with an entirely new set of issues: driving, summer jobs and weight lifting.
Job-It's time to look for my son's first summer job.  I know-I'm late.  Things just seem to sneak up on me sometimes and with the move and all of the upheaval in the last few months I hadn't really thought about work.  He has now filled out a couple of applications, but I'm pretty sure that without a miracle he won't be working. As my kids say,"Epic Fail Mom!"
Driving-Even though I'm a slacker in the job department, I have thought about driving. I don't know if you can get your learner's permit at 16 in this state, but I will be finding out soon.
I really want to wait until my son is 18 to get his driver's license so that he can have a little more time to mature.  The thought of him behind the steering wheel of a car is slightly frightening–okay completely terrifying!  My husband did point out that as careful and detail oriented as he is about other things in his life, he will probably be a great driver.
Weight Lifting- At least we have one thing going for us.  Our local YMCA gave us a discounted membership so I am taking the family three times a week to swim, and in my son's case, to work out. Lifting weights helps him physically and mentally and is a great way to expend some of the pent up frustration that comes with having three little sisters.
We'll see how this adolescence thing goes. So far I don't think I'm doing very well.
You May Also Like:
Purposeful Parenting: Personality
More Coping With Aspergers Posts