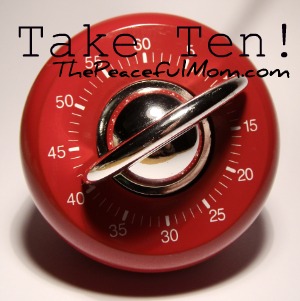 Take Ten-Improve your life ten minutes at a time!
This week's challenge: Spend ten minutes a day organizing your recipes or researching new ones.
Some websites I like are:
Cooks.com-Simple recipes with ingredients you probably already have in the kitchen.
AllRecipes.com– Recipes include ratings so you know if other people liked the recipe you're about to try.
FoodNetwork.com-We enjoy watching the Food Network whenever we have the chance (no cable tv here), so it's fun to try some of the recipes at home.

Let me know if you find any good ones!