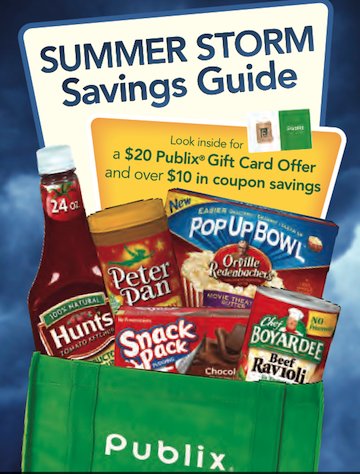 Be on the lookout for a new Publix coupon book and promotion!
The booklet includes coupons for the following (valid 6/4-7/1):
$1/1 Hebrew National Beef Franks
$1/5 Libby's Sausages
$1/5 Chef Boyardee Canned Pasta
$1/3 Hunt's Ketchup or Gulden's Mustard
$1/3 Van Camp's Pork & Beans
$1/1 Pam Cooking Spray
$1/3 Peter Pan Peanut Butter
$1/4 Snack Pack Pudding 4 pk
$1/2 Marie Callender's Frozen Items (dinners, pot pies, bakes and pies)
$1/2 Reddi-wip
The booklet also includes a new promotion:
Buy $50 worth of groceries at Publix (one visit) including $25 worth of Conagra products and get a $20 Publix Gift Card by mail.
Participating products include: Chef Boyardee,® Hunt's® Ketchup, Peter Pan® Peanut Butter, Snack Pack® Pudding, Van Camp's,® Hebrew National® Beef Franks, Gulden's® Mustard, PAM® No-Stick Cooking Spray, Orville Redenbacher's® Gourmet® Popping Corn, Libby's,® Reddi-wip,® and Marie Callender's® Dinners, Bakes, Pies and Pot Pies.
(Thanks iheartPublix!)