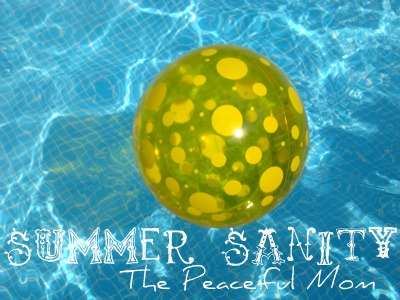 Summer's here and the kids are home. How do you keep your sanity? Create a daily routine.
Summer can be a terrific time of year filled with joyful mothers and children creating memories together OR a time moms survive until school starts.
What can help make the difference? A Daily Routine.
You may hate the idea of scheduling your carefree summer days, but your life will be easier with some kind of framework.Your children will be more at peace when your expectations are clear and you will be less frustrated. Allowing your children to do whatever they want all day long is a sure recipe for disaster and one frustrated mom!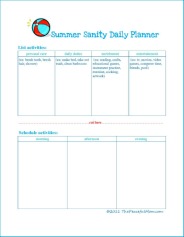 If you'd like to create your own routine, click here for the Summer Sanity Daily Planner (Color) (you will click again to print) and follow these steps:
Decide Your Daily Do's:
List the activities that your children need to do in the first two categories-Personal Care and Daily Duties.


Choose Your Daily Fun:
List the activities you want your children to do in the Enrichment and Entertainment sections.  If you have older children you will want to get their input to fill out the chart.

Schedule:
Create a basic outline for your day. For example you may want your children to complete some chores before breakfast so you would specify those chores in the "morning" section.
The "morning" section could include:
make bed

eat breakfast

put dishes in dishwasher

brush teeth

take clothes to laundry room
(For younger children you may want to use pictures for the different activities.)
Continue for the afternoon and evening sections.  Note: I usually schedule quiet activities in the afternoon when it is hottest outside. The kids entertain themselves and mom gets some rest.


Post It- Post your Summer Sanity-Daily Routine Planner on the fridge so you can refer to it the next time your children complain,"I'm bored."
You May Also Like:
Summer Sanity: The Ultimate Summer Activity List