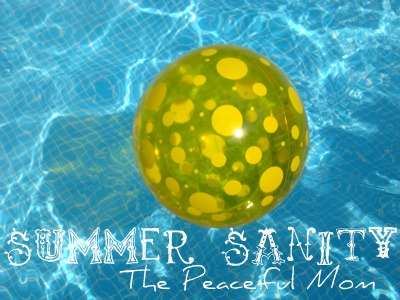 Summer's here and the kids are home.  How do you keep your sanity? The Ultimate Summer Activity List.
_________________________________________________________
Don't miss any of the Summer Sanity posts! Join me on Twitter or Facebook for instant updates or subscribe to my FREE e-newsletter to get posts right in your inbox!
______________________________________________________
Moms and kids all need a few ideas about what to do for the summer, so I've started The Ultimate Summer Activity List. Feel free to add more ideas in the comments!
Inside Fun:
bake cookies (check out these kids cookie recipes)
build a huge tower using all your blocks or legos
decorate your room with paper flowers
decorate your light switch plate (ideas here)
finger painting
have a treasure hunt (ideas here)
host a spa day (make this cute door hanger!)
make home made ice cream in a bag
make a name plate for your door (directions here)
make a tent with a sheet and chairs
make cards or stationery
make a puzzle
make a scrapbook of your school year
pile some cushions on the floor and jump on them
pillow fight
play a card game
play a board game with a twist (zombie Monopoly for older kids)
puppet show
write a play and perform it
write a story and create a book cover for it
Outside Fun:
backyard camp out
bubble blowing contest (home-made bubble recipe)
climb a tree
create a hide out
have a bicycle race
play freeze tag
set up an obstacle course (e-how article)
Slip-n-Slide
swimming olympics (if you have a pool)
wash the car
water balloon fight
water gun battle
Fun Places To Visit:
Barnes and Noble (Reading Program)
Borders (Reading Program) Thanks Esther!

$1.00 Movies at local theater (Regal Theaters, Carmike Theaters)
Free bowling (check out Kids Bowl Free)
Half Price Books (Reading Program) Thanks Esther!
Ice Cream Shop
Library
Local parks-throw a frisbee, read a book out loud, have a picnic
National Parks-camp, hike, fish and swim
Skating Rink
Zoo
You May Also Like:
Summer Sanity: Why You Need A Daily Routine (plus FREE printable planner!)