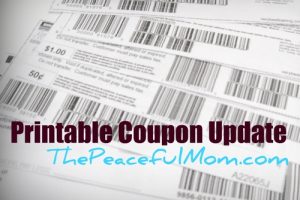 New printable coupons including $1/1 Bic Multi-Purpose Lighter, $1/1 Dove Deodorant, Kellogg's Coupons and more!
COUPONS.COM (PRINT FROM THE PEACEFUL MOM)

$1/4 rolls Scott Naturals Bathroom Tissue


RED PLUM
$2/1 on AMDRO Ant Block 24 oz, AMDRO kills Ants and Roaches Syringes with 2 Bait Stations or AMDRO Kills Ant Stakes 8pk
$1/2 Bar-S 16 oz Franks or Bologna
$3/1 Bengay Product (excludes trial sizes)
$1.50/2 M&M's Brand Chocolate Candies (9.9 oz+)
$1/1 1 lb+ of Sara Lee meat at any service deli or ONE package of any Sara Lee pre-sliced meat
KELLOGG'S COUPONS (Register to print coupons.)
$1/2 Kellogg's Frosted Flakes Cereals (14 oz.+)
$1/2 Kellogg's FiberPlus Cereals (11.5 oz +)
$1/2 Kellogg's Rice Krispies and/or Cocoa Krispies (12 oz.+)
$1/3 Kellogg's Cereals
$.70/1 Kellogg's Raisin Bran
$1/2 Kellogg's All-Bran, Crispix, and/or Kellogg's Corn Flakes Cereals
$1/2 Special K Cereals
$1 off two Packages of Special K Protein Products


OTHER COUPONS
$1/1 Bic Multi-Purpose Lighter (Facebook coupon)
BOGO Brusters Waffle Cone (Facebook coupon)

Thanks to Printable Coupons and Deals, Stretching A Buck and Hip2Save for some of these deals.