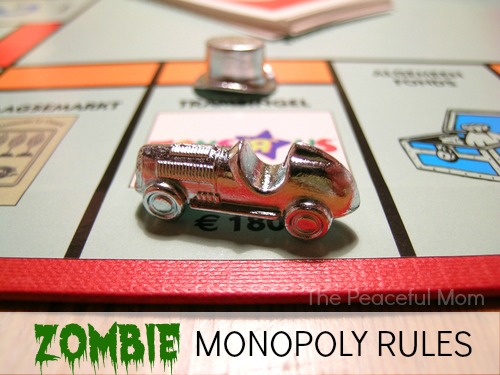 I found this idea while searching for alternative Monopoly rules. Turn a regular game of Monopoly into Zombie Monopoly by doing the following:
Find several small objects to use as zombies.
Play Monopoly as you normally would, but at the beginning of the game place a zombie on the board who moves in the opposite direction as the players.
After each round of play (each person has had one turn), roll one die for the zombie then move him accordingly in the opposite direction of game play. Wherever the zombie lands becomes a quarantined space and no one can purchase it. If it is already owned, the owner cannot collect rent. (You can designate these spaces with small post-it notes.)
If the zombie lands on the same space as another player another zombie is placed on Go and the player has to pay $200 to the bank.
Play ends when the zombies control the board or everyone has run out of money.
Have fun!
You May Also Enjoy: