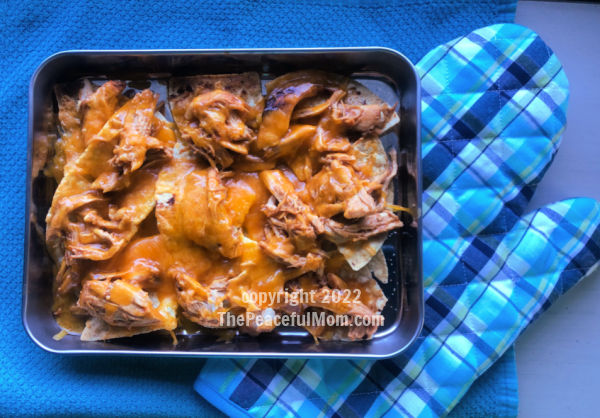 BBQ Chicken Nachos- A simple recipe to take your nachos to the next level. Serve with sour cream, guacamole and a garnish of green or red onions and enjoy!
A super easy recipe from The Peaceful Mom!
Ingredients
3 boneless skinless chicken breasts
1/2 bottle BBQ sauce (check ingredients to make sure it's gluten free)
Lawry's Seasoning Salt to taste (optional)
1/2 14 oz. bag gluten free corn tortilla chips ( we like Santitas)
8 ounces shredded cheddar or Colby/Monterey Jack Cheese
Sour cream, diced green onions and avocado for garnish if desired.
Instructions
Place chicken breasts in crock pot.
Sprinkle lightly with Lawry's Seasoning Salt.
Cover with BBQ sauce and cook on low for 3-4 hours or until no longer pink inside. (Do not overcook or your chicken will be dry.)
Shred chicken with a fork.
Place tortilla chips on a cookie sheet in a single layer.
Top with chicken and shredded cheese.
Cook under the oven broiler for 2-3 minutes or until cheese is melted. (Watch carefully!)
Serve with sour cream, green onions and avocado if desired.
https://thepeacefulmom.com/2011/05/20/simple-gluten-free-bbq-nachos/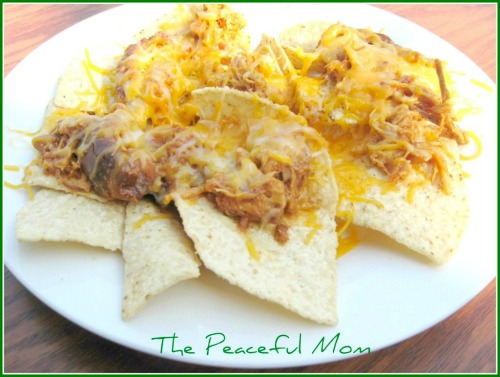 You May Also Like:
Great Ready Made Gluten Free Lasagna

I'm linking up at Gluten Free Wednesdays