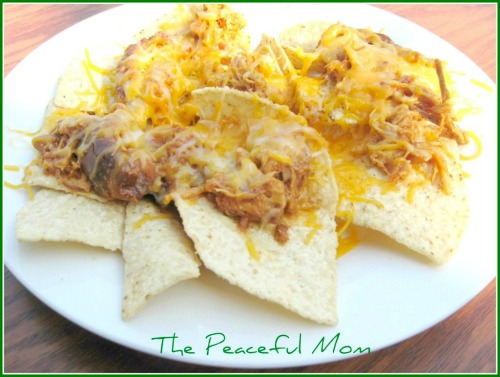 BBQ Chicken Nachos- A simple recipe for to take your nachos to the next level. Serve with sour cream, guacamole and a garnish of green onions and enjoy!
A super easy recipe from The Peaceful Mom!
Ingredients
3 boneless skinless chicken breasts
1/2 bottle BBQ sauce (check ingredients to make sure it's gluten free)
1/2 14 oz. bag gluten free corn tortilla chips ( we like Santitas)
8 ounces shredded cheddar or Colby/Monterey Jack Cheese
Sour cream and avocado for garnish if desired.
Instructions
Place chicken breasts in crock pot.
Cover with BBQ sauce and cook on low for 3-4 hours or until done. (Do not overcook or your chicken will be dry.)
Shred chicken with a fork.
Place tortilla chips on a cookie sheet in a single layer.
Top with chicken and shredded cheese.
Cook under the broiler for 3-4 minutes or until cheese is melted. (Watch carefully!)
Serve with sour cream and avocado if desired.
https://thepeacefulmom.com/2011/05/20/simple-gluten-free-bbq-nachos/
You May Also Like:
Great Ready Made Gluten Free Lasagna

I'm linking up at Gluten Free Wednesdays