Six months ago we sold 90% of our belongings (we kept a few kitchen items, some clothing, sheets, comforters and home school books) and moved to another state for a three month training program.
At the time we thought we might be moving out of the country so selling our belongings made sense.
Now that we've decided to stay in the country we have to replace what we sold — not an easy task on a budget but with a little creativity, hard work and God's provision we were able to furnish an entire room for less than $200.
BEFORE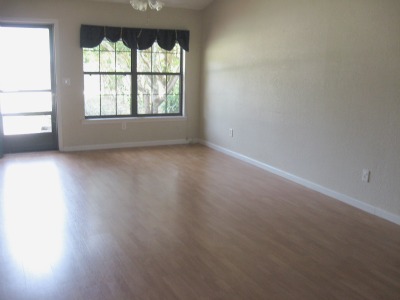 AFTER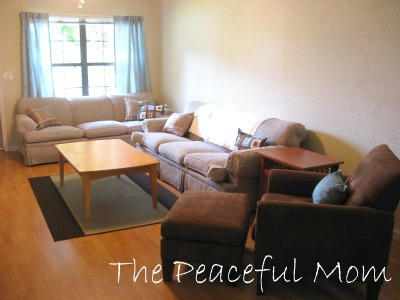 We used several different resources in our local area to furnish the room:
Yard Sales – A yard sale in a nearby neighborhood yielded the brown microfiber chair and ottoman for $50 and two mission style end tables for $5 each. I also purchased a mission style desk (not shown) which we are using as a make-shift entertainment center.
Thrift Stores, Resale Shops – The large pine coffee table came from a resale shop in our neighborhood. It cost $8 and I also found great dining room chairs for $5.00 a piece.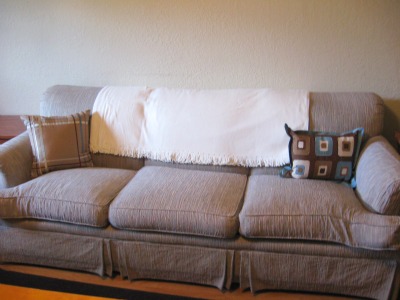 Family, Friends and Neighbors – A neighbor who was moving had two Ethan Allen sofas which she gave us for FREE! A friend loaned us her upholstery cleaner and once the sofas were clean they smelled and looked great with the exception of a few stains. Another neighbor gave us the rug which she was discarding.
Discount Stores -The white fleece throw came from Ikea and cost $3.49. It covers the stains on the back of the sofa beautifully and makes the seating warm and inviting.
The pillows came from Walmart's new Better Homes and Gardens line. The pillows were $12.88 and the curtains were $13 a panel. I actually spent more on the curtains and pillows than everything else in the room , but they give the room a little bit of a cozier feel.
Of course I could add lamps, artwork and other decorative items but for now the living room is functional, comfortable, not bad to look at — and it didn't cost a fortune.
You are probably not starting from scratch like we did, but you can use the same principles to save money on your home decor. Let me know what bargains you find!

You May Also Like:
Saving Money In The Laundry Room