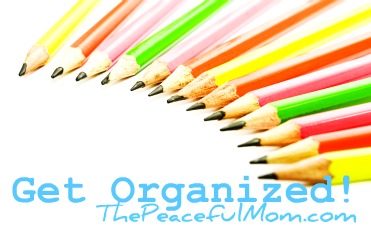 Get Organized: My Morning Routine
Want to get more done?  Make your daily activities a routine.  Forming routine habits allows you to go on auto-pilot to get through basic chores so that you can reserve your energy and brain power for more important tasks.

My morning routine includes:
Water– I drink a glass of water first thing in the morning and leave my glass out on the counter to remind me to drink throughout the day.
Bible-I spend some time every morning reading the Bible and praying, even if it's only the chapter of Proverbs that corresponds to the date.  Reading the Word gets my day off to a good start and keeps my focus on God.  If I miss my morning reading I will fit it in later in the day.
Exercise-I usually take a morning walk/run before I start the rest of my day.  It helps me to think better, relieve stress and it's good for me.
Laundry-When I return from my walk I start a load of laundry before I shower.  Doing one load of laundry a day keeps the laundry where it should be: in the closets!
Breakfast-I eat some form of protein for breakfast which insures that my blood sugar stays level and that my brain works for the day.
Food Prep-I always check my menu and see what I can prepare ahead of time.  Starting meals first thing in the morning makes my dinner time much less stressful.
Doing these tasks first thing in the morning allows me to spend the rest of my day focusing on more important things like my children.  Doing the activities in the same order every day means I don't have to think about it.  I just get it done.


You May Also Like: