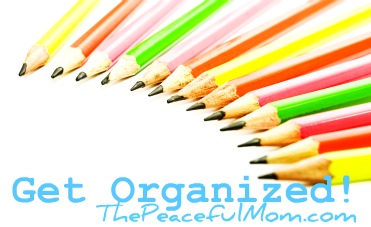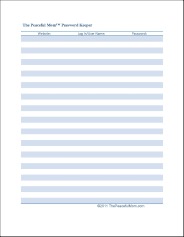 Click to print The Peaceful Mom Password Keeper.
I don't know about you, but I have lots of websites I visit that require passwords.  To make it simple I used one password for all my on-line activity.  Then…my husband's identity was stolen through his email and the perpetrators hijacked his PayPal account to sell fraudulent materials on line.
Needless to say, it was a huge wake up call.
Once I started using more secure passwords and differentiating them between the various websites, it became more difficult to remember which password went with which website.  (I have heard that you can use the same basic password and add the initials of the website before or after the word, but this still seems less secure to me than using different passwords.)  Of course my computer stores them automatically, but when I recently moved from a desktop to a laptop computer, I had to re-enter all of the information.
To help me keep up with all the passwords I created The Peaceful Mom Password Keeper.  Click to print a FREE copy for your records: The Peaceful Mom Password Keeper
Obviously, keep this form in a safe place!
You May Also Like: