For those of you who have been following the blog for a while you know that our family sold 90% of our belongings and moved to another state to participate in a training school from January to March.  I've learned a few things in the process.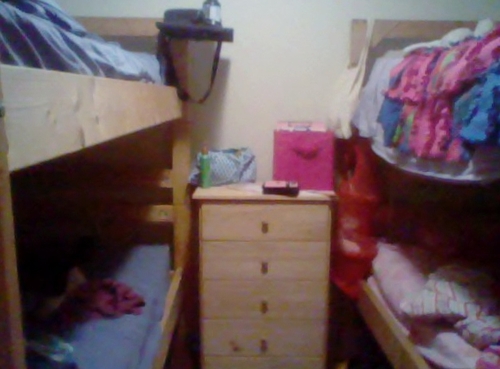 During the training our family lived in a three bedroom condo with another couple and their infant daughter.  Our four children slept in a tiny room with double bunk beds, my husband and I had a small room down the narrow hallway and we shared a bathroom in between.
We had immediate adjustments to make as we went from a huge six bedroom, three and a half bath house and a very flexible schedule to such a small space and a very intense schedule.  It was rough.  There was a lot of crying and complaining in the first weeks, but as time passed our family became accustomed to our new life and everyone became more peaceful.
While many good things transpired during the training, we realized that the organization was not a good fit for our family.  Thankfully a local church provided a house for very low rent for our transition period and my husband was able to get a job right away.
Even though things did not turn out as planned, I'm so glad that we went because we gained so much.
Unity in Our Marriage-The school was basically a three month marriage boot camp for us.  My husband and I had to work through so many issues and had to learn to  communicate about deep issues (and some not so deep.)
Better Parenting-I had an even deeper realization of the importance of family and how I had not engaged with my children on some levels.
Strength– Our marriage and family relationships are definitely stronger from going through difficult circumstances and surviving.  Our communication is better and our love and appreciation for each other is deeper.
Simplicity– I thought we had a simple life before, but I have realized that truly all we need are food, water, shelter, clothing and relationship.  I can do without a LOT of things that I thought were very necessary.
I find it humorous that it took a complicated set of circumstances to get us to simplify our life even more.  For now we have decided to stay in the area.  That means finding a more permanent home and replacing the furniture and household items we sold three months ago.  At least we are accustomed to living with less now!
You May Also Like:
Helping Your Family Cope with Stressful Circumstances
The Peaceful Mom Weekly Planner