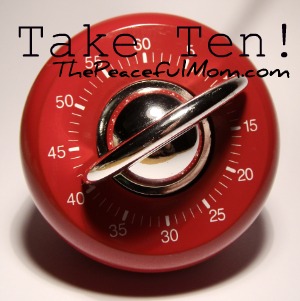 Take Ten-Improve your life ten minutes at a time!
I have a confession to make.  I'm terrible about cleaning out my email box.  I always think I will get back to an email to read it or take care of it, so I don't delete it immediately.  Right now I have over 900 emails.  Yes, you read that correctly.  Embarrassing, right?
So, this week we'll be focusing on the computer.  Take ten minutes a day to clean out your email, delete items you no longer use, back up important documents and photos.  Do that computer maintenance stuff that you know you should be doing but you never do.
To keep myself accountable, I'll be reporting back later in the week on the new email total.  Feel free to comment on how your Take Ten goes this week.
You May Also Like:
Purposeful Parenting: Personality