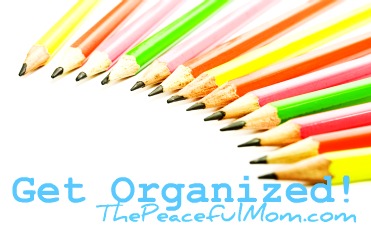 Click to print The Peaceful Mom Weekly Planner 1.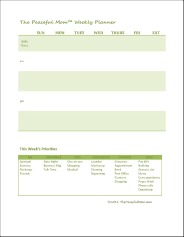 Life was getting a little out of control so I have recommitted myself to a weekly planning day.   As a result, I have a great new form for your home organization binder.  Here's how I use the planner:
Set A Planning Day and Time- I will be reserving Sunday evenings for my planning and reflection time.
Set Priorities-Before planning my activities I decide on my priorities for the week.  The Peaceful Mom Weekly Planner 1 has a reminder list on the lower half to make sure that no important items get left out.  There is also space to fill in additional priorities.
Fill In The Calendar-After determining my priorities I will fill in the top portion of the form with the activities for the week.  Here's a sample of my upcoming week: My Weekly Planner
I realized after I completed this week's plan that I left out any time with friends so I will be correcting that.  I will also probably spend Sunday afternoon resting and catching up on some reading.
The Weekly Planner will be in the front of my Brain in a Binder which I will be posting more about soon.  Here's to getting organized!
You May Also Like:
Weekly Planner 2 (hour by hour section)