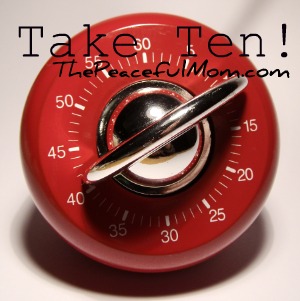 Life can be improved ten minutes at a time!
Each week we'll focus on a different area of life and spend just ten minutes a day to enhance it.  This week we're focusing on marriage.  (If you're not married, I have some ideas for you too!)
Take ten minutes each day this week and do something to connect with your spouse.  Here are some ideas to get you started:
Write a Note– Write "I love you" on the bathroom mirror with a dry erase marker, put a love note in your husband's lunch, write a thank you note on a post-it and leave it in his car.
Have a Mini Date-Have coffee together in the morning, take a walk after dinner, go out for ice cream.
Pray-Spend ten minutes a day praying for your husband's health, spiritual life, career, relationships.  Prayer makes things happen!
If you're not married you can spend this time connecting with friends and encouraging them.  Take ten minutes to write an encouraging note or call a friend and pray for her.