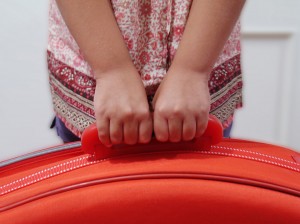 It's vacation time! If you want to have a smooth, worry free trip, here are ten things you must pack:
Small Flashlight or Nightlight-Great for finding items in the dark when you don't want to wake sleeping children.
Utility Scissors-Useful for opening packages (the swimmies you forgot to pack, etc.), turning a pair of pants into shorts or  cutting paper dolls for your kids to color.
Canvas Laundry Bag-Laundry piles up quickly and no one wants to put dirty clothes in the suitcase for the ride home. You can also use the bag to carry clothes to the hotel laundry room.
Cell Phone Charger-Helpful if you want to be able to make calls past the first day of your trip!
Camera Battery-Bring an extra so you don't pay four times the normal price at a tourist destination.
Personalized Water Bottles-Great for the ride so you don't have to buy soda every time you buy gas (bring a couple of gallons of water along for refills) and perfect for hotel rooms so no one is asking,"Whose cup is this?"
Travel Size Air Freshener-Bathroom. Need I say more?
Plastic Zipper Bags-Gallon size can be used for packing wet items such as bathing suits or messy clothing produced by babies and toddlers. Smaller sizes can be used to hold kid-sized snack portions, toothbrushes and toothpaste, change for the tollbooths, etc.  Larger sizes can be used to pack and label individual outfits for young children.
Waterproof Purse/Backpack-Not much worse than having your personal items ruined because of a surprise rainstorm.
Small Bottle of Dish Detergent-In addition to washing dishes, liquid detergent can be used to remove stains from clothing, wash delicates or wash your hands. (Does anyone else hate that messy hotel bar soap?)
Collapsible Cooler- (number 11, but I can't leave this out) Great for packing lunch for day trips, but easily stored when you don't need it.
Paying attention to a few small details can make all the difference in your next trip.
What do you take on vacation to make life easier? Leave a comment. 🙂