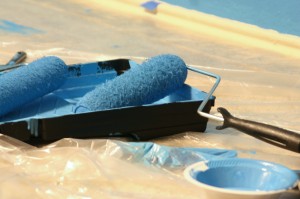 This weekend our family had the privilege of serving a new friend. 
Saturday our family spent the day with a new friend on the staff of our school who recently moved and needed help with painting and unpacking.
We were able to paint the guest bathroom, prep the guest bedroom for painting, unpack several boxes and organize the kitchen and linen closet.
We even got some pizza for dinner thanks to his generosity!
On Sunday we celebrated my hubby's birthday with our first date since arriving at the school in January.  Needless to say it was much needed!
We had a great walk in the park enjoying the fabulous weather and then chowed down on sub sandwiches and chips.  Sometimes the simple things are the best!