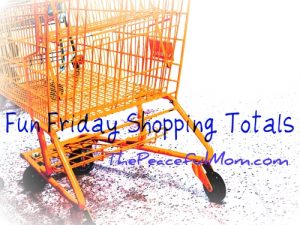 I got a budget increase!
If you are a regular reader of The Peaceful Mom you know that I feed my family of six including two teens and two preteens for $100/week or $400 a month.  It takes some hard work, creativity and a weekly meal of beans and rice, but we make it work.
Now that we are in missions training I wondered how I would be able to continue.   We have some meals provided but I have to prepare daily breakfasts, dinner on Wednesday and Friday, and all meals on Saturday and Sunday.  I don't have time to cut coupons, there is no printer to print coupons and I don't have the usual convenience of a crock pot.  I am also limited to shopping at Publix because they give us a gift card with the weekly allowance. The good news is that I have $138 to work with!
I didn't have time to take a picture, but I'll share some highlights of the shopping this week and you can see our menu here. We also have some items in the fridge, freezer and pantry that they purchased for us ahead of time like bread, a few bags of chips and milk.
Here are the best sale items I got this week:
Sirloin Tip Roast $2.99/lb (I will cut this to make steak fajitas.)
3 lb bag of green and red bell peppers $3.99
16 oz. Smithfield Bacon $3.00
12 oz. Publix Garden Salad $1.99
16 oz. strawberries $2.99
If you would like to keep up with our family as we continue on this new adventure of training for full-time missions join us on Facebook to receive instant blog updates or subscribe to my daily email newsletter
You May Also Like:
Fun Friday Weekly Menu (What we're eating from these groceries!)