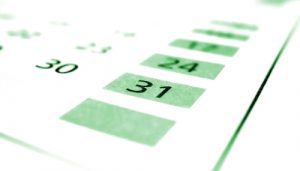 Just three days until we move out of state.  Here's an update: 
Plan B-Our friends are not going to need our furniture and household items as we thought so we have to form a back up plan rapidly.  We will try to sell as many items as we can and the others will be donated to charity.
Van Repairs-No one can find anything wrong with our van although it stopped in the middle of the highway the other night.  Since there is evidently nothing to be fixed, we will be driving it to the school trusting that it's in good condition.
Finances-We received $850 on Sunday from friends in our church which is a HUGE blessing and leaves us with a balance of only $2200 to raise before January 3rd.  We are going, trusting that God will provide the money.  (We have no other option-insert smiley face!)
Housing-We found out today that we will be staying in a three bedroom house with a young couple and their new baby.  Our four children will be in one room and Gary and I will have a separate room.  So thankful for that!
We will also have a bathroom to share as a family.  This is good news since at one point the administration discussed housing everyone in RVs as they transition to a new campus!
Packing-We are down to the wire with the packing and the children are feeling the stress of putting their things into boxes.  Even though they know that they will see them again, it is hard to part with favorites for now.
Stress Level- In the last few hours the toilet over-flowed all over the bathroom floor; one of the children ran into a cabinet in the bathroom and broke my favorite glass bowl filled with sea shell potpourri (The potpourri went into the toilet and glass went all over the floor); I accidentally pushed my favorite china set off the kitchen counter and broke one of the saucers; I dropped our favorite Christmas movie and the case broke; each of the children took turns having a melt down and I sat in my room and cried for five minutes.
Other than that, everything is great!  I am maintaining my peace and my sense of humor, so I think we'll make it.
If you would like to keep up with our family adventures, subscribe for daily email updates here!

You May Also Like: