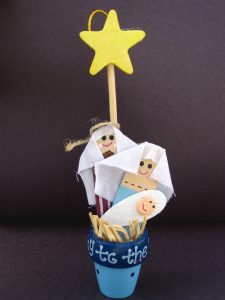 As I looked through some papers earlier this week I found a note I had written when my youngest (now 10) was 5 years old.  She had recited to me her version of the Christmas story.



"David said to Mary,'Let's call him Jesus.  Jesus would be a great name!'
They got on their camels which was their cars and went to their houses.  There are lots of houses in heaven where people go to live when they die.  I'm not ready to die.
And an angel came by and said,'In 2003 your baby will be born and you are a good mother.'
And the sheeps were all around and they are a happy family in Jesus."
Well, I think she hit the high points at least.