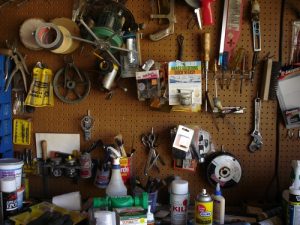 Just three days until Christmas and we're cleaning the garage rather than going Christmas shopping.
(not an actual representation of our garage-ours isn't that organized!)
Don't worry-we'll be doing some Christmas activities tomorrow.  Today we are taking advantage of the weather which happens to be a very balmy 60 degrees with sun!  (It's no fun to clean the garage in freezing rainy weather.)
Just a note: Don't get caught up in the last-minute Christmas frenzy.  It's always tempting to feel panic and spend more money right before the Big Day, but if you made a plan just review it and stick with it.  More money doesn't make for a happier Christmas, but fewer bills DO make for a happier January!
Have a Peaceful Day!