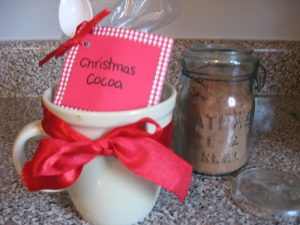 Looking for a fun and cost-effective Christmas gift for teachers or neighbors? Try Homemade Cocoa Mix.
Homemade Christmas Cocoa
Ingredients
2 cups nonfat dry milk powder
3/4 cup sugar
1/2 cup unsweetened cocoa
1/2 cup mini semisweet chocolate chips
1/2 cup powdered nondairy creamer
1/8 teaspoon salt
Instructions
Measure all ingredients into a mixing bowl and whisk together until  blended well.
Place one cup of mix into a gift container (cellophane bag, glass jar, etc.).
Include a card with these instructions:  "Combine 1/4 cup mix and 3/4 cup boiling water in cup or mug.  Stir to blend.  Add marshmallows and enjoy!"
Tuck the mix into a mug or basket and add a peppermint stick and a small bag of marshmallows.
You can also make this Hot Cocoa Gift Basket!
Click here for more Stress Free Christmas Ideas!