Simple Gluten Free: A simple chicken recipe from Amanda at A Few Shortcuts sounded delicious and it's gluten free!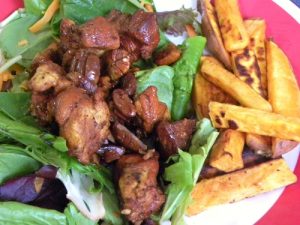 Praline Chicken (Crockpot)
6 small or 3 large chicken breasts cut into chunks
Creole seasoning
2 tbsp oil
1/2 cup Maple syrup (Pancake Syrup)
2 tbsp brown sugar
1 cup chopped pecans
Toss chicken breast chunks with creole seasoning.
In a large skillet heat oil over medium heat.  Brown chicken on all sides.  It doesn't need to be cooked through.  After browning chicken, add it to the crock pot.
In a bowl mix maple syrup, sugar  and pecans.  Pour over chicken and cook on low for 6 hours or high for 3 hours.  Serve over rice or baby spinach.
Makes 6 servings.
She also has a recipe for sweet potato fries here.